Join the Circle
Do you want to help empower immigrant youth in St. Louis? By joining St. Francis Community Services' Youth Program Sustainer Circle, you provide the tools to help children of immigrants thrive academically and socially. Under this new Sustainer Circle initiative, supporters like you make either monthly donations of $150 or an annual donation of $1,800. This funds an entire week of our Youth Program – making a critical difference in the lives of children and families who are working hard all year long to excel in school. At the same time, supporters of the Sustainer Circle have opportunities throughout the year to build community with the kids and families in the program.
Our Sustainer Circle initiative is inspired by a communal savings practice found throughout Latin America, known in Spanish as a tanda. The members of the tanda (often groups of friends or acquaintances) each pool their money each month, and each person takes a turn receiving the entire sum. Members of a tanda often find that these practices make large purchases or saving possible. In our program, supporters make a donation throughout the year, but their donation makes possible a specific week in our Youth Program.
Why it Matters
"I am excited that Amy is a part of this program because she is already a good student but needs extra help. If Amy is confused about something, she has someone to explain the problems and work them with her. She attends every class and is doing a great job."
 – Jazmin, mother of a child in our Youth Program
St. Francis' bilingual Youth Program is empowering children of immigrants in the St. Louis area through educational excellence, innovative extra-curricular activities, and creating an environment where they feel secure to thrive. By ensuring they are able to access tutoring, reading lessons, and art and music classes, our Youth Program makes sure children of immigrants are able to reach their full academic and social potential, regardless of their family's income.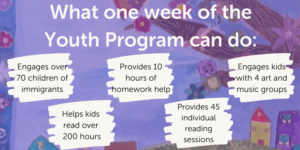 Building Community with the Youth Program
Both individuals and groups are welcome to join our Youth Program Sustainer Circle. One person may decide to sponsor a week individually. Other times, groups from church, friends, or an office may be interested in joining together to sponsor a week by rotating who gives on a monthly basis.
As a special thank you, our Sustainer Circle offers opportunities to be involved with the kids and families in the Youth Program, if Sustainers want. Each Sustainer Circle participant receives updates on what happened in the program during their sponsored week – including moments like what accomplishments the kids made and the types of learning their donation helped make possible. We also provide annual opportunities for our supporters to volunteer, share a skill or class with our students, attend a group art activity, and stop by an annual summer field day.
Register Today!
Complete this form, and a staff member of St. Francis will reach out to you to provide more details, set up payment, and select your specific sponsorship week!