Spring is a time of renewal, looking forward to new opportunities, and growth. We felt the spring spirit at St. Francis Community Services last weekend as we celebrated Día del Niño with our neighbors. Día del Niño is an annual celebration held on April 30th throughout Mexico, and in many other countries in Latin America. It is a day to celebrate children for who they are today versus talking about who we hope they one day will become. A day to acknowledge and celebrate the beauty and wonder of childhood, and to show kids that we honor and value them for exactly who they are.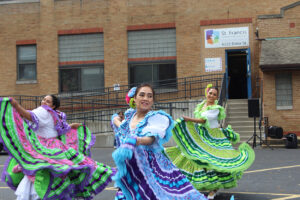 Over 270 people joined us last Saturday for our first in person Día del Niño celebration in three years. The kiddos bounced to their hearts content in a bounce house, got butterflies and tiger stripes painted on their faces, ran around collecting candy from piñatas and were proud to show off the prizes they collected from the carnival games. There were many, many smiles from kids and parents alike! A special thanks to Ballet Ollin USA, Grupo Folklórico Panameño, and Carnaval Tlaxcala for their performances and to all our amazing volunteers who made this event happen!
At St. Francis Community Services our Bilingual Youth Program creates a space where children of immigrants can feel at home and flourish academically and socially. The staff guides kids through art, sports, academics and music to foster social growth. Sometimes kids just need to have fun and we assure you there was a whole lot of that happening last weekend!