On Friday, October 14th, 2016, Catholic Legal Assistance Ministry (CLAM) staff attorney, Hannah Sullivan, was presented with a prestigious Spirit of Justice Award from the Saint Louis Bar Foundation. Hannah has been an unsung hero in the St. Louis legal community for the past decade. She has served as an immigration attorney at Catholic Legal Assistance Ministry for the last nine of those years, representing clients who are unable to afford an attorney and are in desperate need of legal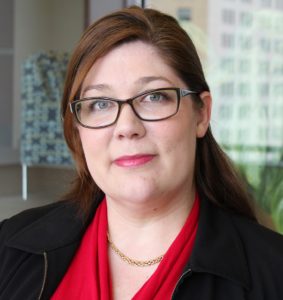 help.
Hannah focuses her area of practice on helping those who are refugees and asylum seekers, victims of human trafficking and crime, women and children who are victims of violence, special immigrant juveniles, and others who are defenseless. Her work has touched countless lives during her time at CLAM, and she is a true embodiment of the Spirit of Justice.
St. Francis Community Services congratulates Hannah on this well-deserved achievement. She, and the other attorneys at CLAM, work extraordinarily hard on a daily basis to serve clients in need throughout the greater St. Louis community. We are proud of Hannah and the rest of our dedicated staff!
A very special thanks to the Godfrey and Virginia Padberg Trust, who's funding makes Hannah's powerful work possible.
(Pictured in cover photo, from left: Matthew Padberg, Hannah Sullivan, Celeste Padberg)