St. Francis Community Services is proud to be presenting the following two inaugural community awards during our Seeds of Hope event on June 25th, 2016. Congratulations to these two inspiring individuals!
---
The 2016 Instrument of Peace Award
to an outstanding individual who has years of dedication to serving the poor and disadvantaged in our community
Msgr. Robert "Fr. Bob" Gettinger 
St. Augustine Parish / Fr. Bob's Outreach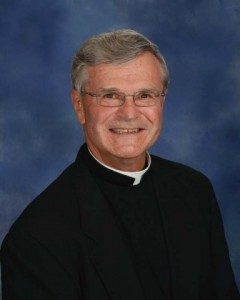 Msgr. Gettinger is pastor of St. Augustine Parish in St. Louis. He has dedicated the majority of his fifty- two years in the priesthood to parishes in the North St. Louis Deanery. He is a St. Louis native.
After ordination, his first assignment was at St. Charles Borromeo in St. Charles and then in 1970 at St. Sebastian in unincorporated North St. Louis County. He was named associate pastor of Holy Name Parish in 1972, administrator at St. Bridget in 1976 and pastor of Most Blessed Sacrament Parish in 1985. He has served as pastor of St. Augustine since it formed in 1992, the merger of St. Barbara, St. Rose, St. Edward, St. Mark and Notre Dame parishes.
Msgr. Gettinger has been on a mission to feed the hungry, clothe the naked, and minister to the marginalized in St. Louis for more than 50 years.  Every Monday, Wednesday, and Friday he can be found at Fr. Bob's Outreach.  There with the assistance of volunteers he provides utility, rent and funeral assistance.  While his organization helps to meet the financial needs of the community, he is continually providing spiritual support and guidance to all.  During the holiday season, with the help of St. Elizabeth Mother of John the Baptist Parish and many volunteers, Msgr. Gettinger has led a massive effort to help the needy. The two parishes accept collections for Christmas food baskets, shoe certificates, toys, warm clothing and blankets. Asked what has drawn him to North St. Louis parishes for more than 30 years, Msgr. Gettinger said: "I love ministering with the African-American community. Every Mass we celebrate has the attitude and atmosphere of a celebration." Msgr. also said he enjoys working with the poor in the community. "I feel it a great privilege to help people who are less fortunate," he said. "The less fortunate we serve are not our parishioners, either. We have an outreach to many other people in the community. Who wouldn't want to be around Jesus' special friends?"
---
The 2016 Symbol of Hope Award
to an outstanding individual coming from humble means who has gone on to create large and positive impact in the community 
Dr. Patrick D. Walker, MBA, JD
Lindenwood University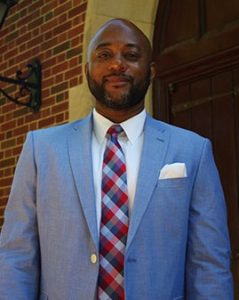 Raised in Winston Salem, North Carolina by his grandparents Luther Odom and Virginia Mae Walker, Patrick is an award-winning first generation college graduate, professor, business lawyer, southern gentleman, and former BELK teen supermodel with 20+ years of demonstrated expertise in educational and organizational management, corporate & community engagement, governance, compliance, and assessment. He is experienced with helping organizations achieve the fundamental business ingredients of success as they navigate through critical management and legal decision-making processes and strive toward effectiveness, efficiency, and financial sustainability.
Patrick conducts management seminars for local and national nonprofit organizations, small businesses, and Fortune 500 companies. His teaching experience includes courses in management, business law, strategy, governance, ethics, and small business consulting. Published in management journals, law journals, and conference proceedings, Patrick's research explores interdisciplinary approaches to social entrepreneurship in addition to small business and nonprofit "matchmaking."
At the beginning of his second academic year at Lindenwood University, Patrick received the Emerson Electric Company Professor of the Year award for teaching excellence.  By the end of this same academic year, Patrick was elected President of the Lindenwood University Faculty Senate.
St. Louis Metro Area Community Engagement:
Board Member, Community Council of St. Charles County
Board Member, Empower Missouri
Board Member, Greater St. Louis YMCA O'Fallon
Board Member, Nonprofit Missouri
Board Member, Youth in Need
---
---